Judges and Trial Courts
Unlike any other state in the United States, Louisiana follows the civil law tradition that originated in Europe. The primary source of Louisiana's law is codified, whereas the other 49 states are predominantly rooted in common law.
Although often called the "Napoleonic Code", the basis for Louisiana's original Civil Code was actually rooted in Spanish law, as Spain owned the Louisiana territory at the time Louisiana's first civil code was promulgated. As the majority of Louisiana's first residents spoke French, the Code's drafters used France's Napoleonic Code as a model for codifying Spanish law where French and Spanish law were the same.
Thus, when looking for "the law" in Louisiana on a particular issue, we turn first to our Code and statutes and then to the caselaw interpreting them.
Judges and Trial Courts
All of our state district, appellate, and supreme court judges are elected by popular vote of Louisiana residents. The major exception involves workers' compensation – workers' compensation judges are appointed. The threshold for state civil jury trials in Louisiana is $50,000 exclusive of interest and costs. Cases valued at less than this amount are tried by judges randomly selected by the clerks of court. The typical jury size is 12 with two alternates, but parties may opt for a smaller panel.
State Judicial Districts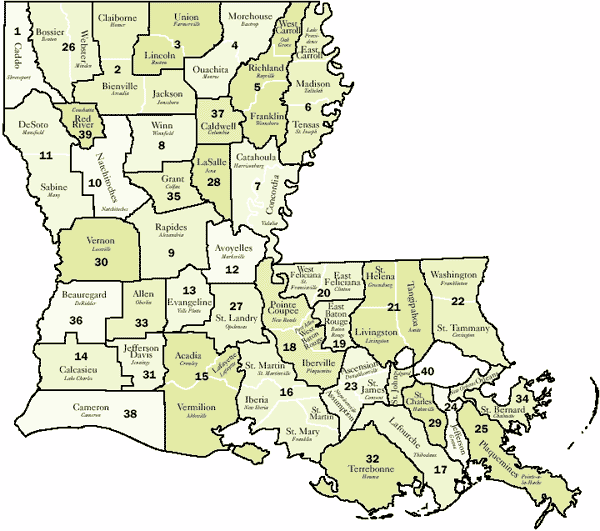 The map above shows the judicial districts for all Louisiana state trial courts.  Although most judicial districts equate to Louisiana's parishes ("parishes" in Louisiana are the same as "counties" in other states in the U.S.), some, such as the 15th Judicial District, encompass more than one parish.  For example, Cameron Parish (located in the southwest corner of the state) is also the 38th Judicial District.  On the other hand, the 15th Judicial District (located just to the right of Cameron Parish) comprises Acadia, Lafayette, and Vermilion Parishes.
Appellate Practice
Any party to a suit who wishes to contest part or all of the outcome of a decision by a judge or jury has the right to appeal the trial court's judgment to one of five circuit courts of appeal (the location of the trial determines the specific circuit court of appeal who will hear the appeal).
Courts of Appeal Circuits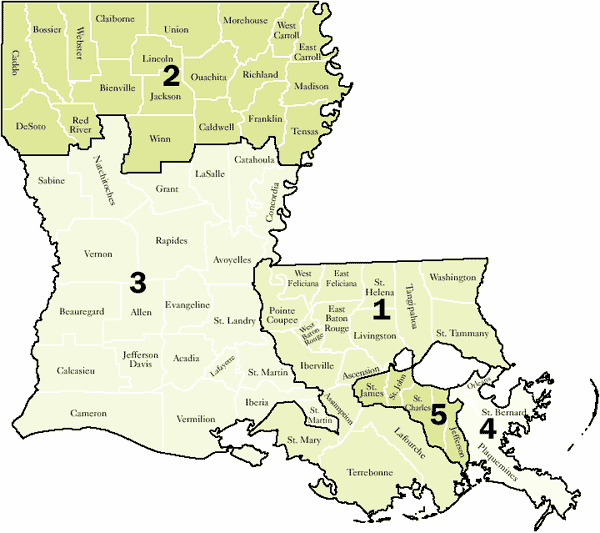 The map above provides a breakdown of the five appellate circuits in Louisiana.  The parish in which a case is tried may be appealed only to the appellate circuit in which the parish is located.  Thus, if a trial occurs in Lafayette Parish, an appeal must be taken to the Third Circuit Court of Appeal.
Appellate courts are usually composed of three randomly selected appellate court judges.  If the three-judge panel rules 2 to 1 either for or against the appellant, the case is automatically scheduled for hearing before a five-judge panel that contains the original three appellate judges and two additional randomly selected appellate judges.  Rehearings are discretionary.
Any party who wishes to contest part or all of the outcome of a decision by a circuit court of appeal may seek review by the Louisiana Supreme Court, but the review is discretionary – four out of seven supreme court justices must grant the request for a review.
Appellate Review of Fact – Unique to Louisiana
Also unlike any other state, Louisiana allows appellate courts at both the circuit court and supreme court levels to review issues of fact as well as issues of law.  In other words, an appellate court, relying solely on the trial-record, may resolve a factual dispute differently than the court immediately preceding it.  This is unusual in the sense that appellate courts may decide factual issues (that is, they may act as a trial court), but are not permitted to consider new evidence – their decisions must be based on the trial-record.
Tort Reform in Louisiana
In 1996, Louisiana passed major tort-reform legislation.  One of the most far-reaching piece of legislation was the move to "pure comparative fault".  Under the reform, a judge or jury must apportion fault amongst all of the different persons who are found to have contributed to the plaintiff's damages (including the plaintiff – in which case, the plaintiff's recovery will be reduced by his or her own percentage of fault).  In addition, fault must be attributed to a person who is not even a party to the litigation, if that person contributed to the plaintiff's damages.  Finally, no person may be compelled to pay more than his or her percentage of fault.

Vehicular Insurance
Regarding automobile insurance for Louisiana residents, two laws predominate:
(1) All Louisiana residents must maintain a minimum of bodily injury liability insurance  of at least $15,000 per person/$30,000 per occurrence.
(2) Louisiana has a "no pay/no play" statute that penalizes drivers who are injured in automobile accidents through no fault of their own, but who happened to be uninsured at the time of the accident.  In such a case, any amount of damages awarded to an uninsured plaintiff will be reduced by $10,000 – the minimum amount of bodily injury liability coverage required of all drivers in Louisiana.
Punitive Damages
Punitive damages (called "exemplary damages" in Louisiana) are rare at the state-court level.  They are allowed by statute only in tort cases where injury was caused by an intoxicated defendants and where a defendant engaged in criminal sexual activity that caused damage to someone 17 years old or younger.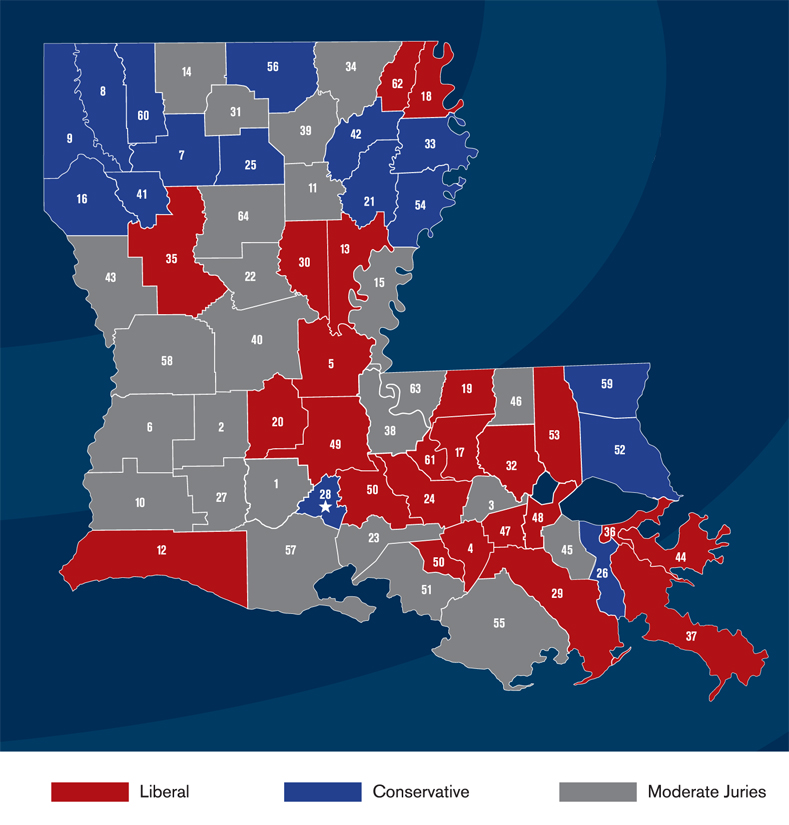 Disclaimer
The information provided on this website is informational only – it should not be viewed as a substitute for consultation with an attorney.  If you have been injured and believe that someone else is to blame for your injuries, you should seek legal advice.