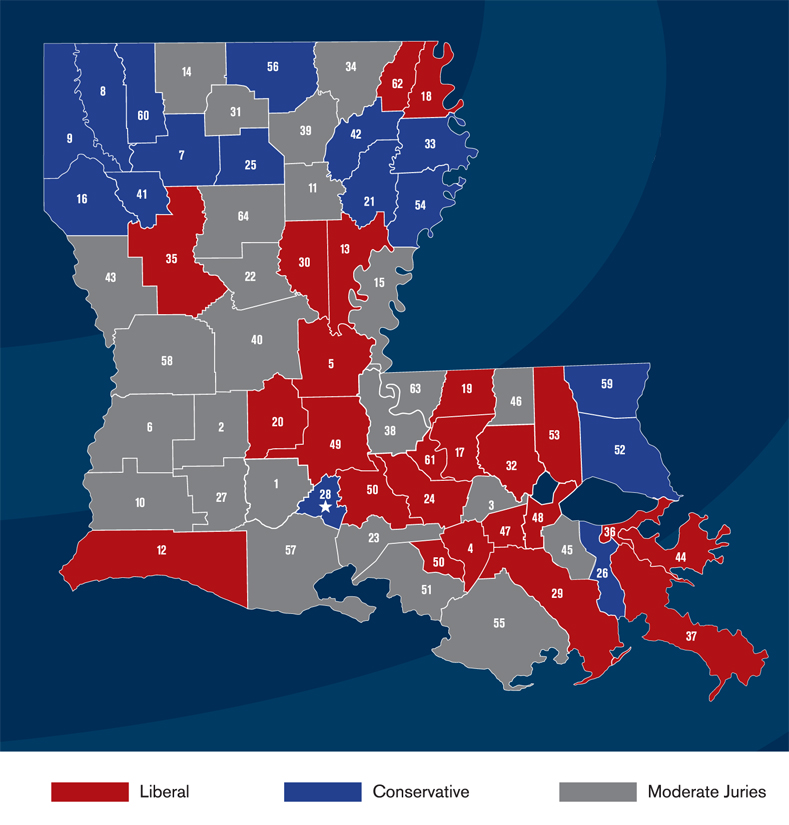 1. Acadia (15th JDC, Crowley)
2. Allen (33rd JDC, Oberlin)
3. Ascension (23rd JDC, Napoleonville)
4. Assumption (23rd JDC Donaldsonville)
5. Avoyelles (12th JDC, Marksville)
6. Beauregard (36th JDC, DeRidder)
7. Bienville (2nd JDC, Arcadia)
8. Bossier (28th JDC, Benton)
9. Caddo (1st JDC, Shreveport)
10. Calcasieu (14th JDC, Lake Charles)
11. Caldwell (37th JDC, Columbia)
12. Cameron (14th JDC, Lake Charles)
13. Catahoula (7th JDC, Harrisonburg)
14. Claiborne (2nd JDC, Homer)
15. Concordia (7th JDC, Vidalia)
16. DeSoto (11th JDC, Mansfield)
17. East Baton Rouge (19th JDC, Baton Rouge)
18. East Carroll (6th JDC, Lake Providence)
19. East Feliciana (20th JDC, Clinton)
20. Evangeline (13th JDC, Ville Platte)
21. Franklin (5th JDC, Winnsboro)
22. Grant (35th JDC, Colfax)
23. Iberia (16th JDC, New Iberia)
24. Iberville (18th JDC Plaquemine)
25. Jackson (2nd JDC, Jonesboro)
26. Jefferson (24th JDC, Gretna)
27. Jefferson Davis (31st JDC, Jennings)
28. Lafayette (15th JDC, Lafayette)
29. LaFourche (17th JDC, Thibodaux)
30. LaSalle (28th JDC, Jena)
31. Lincoln (21st JDC, Ruston)
32. Livingston (21st JDC, Livingston)
33. Madison (6th JDC, Tallulah)
34. Morehouse (4th JDC, Bastrop)
35. Natchitoches (10th JDC, Natchitoches)
36. Orleans (New Orleans)
37. Plaquemines (25th JDC Belle Chasse)
38. Pointe Coupee (18th JDC, New Roads)
39. Ouachita (4th JDC, Monroe)
40. Rapides (9th JDC, Alexandria)
41. Red River (39th JDC, Coushatta)
42. Richland (5th JDC, Rayville)
43. Sabine (11th JDC, Many)
44. St. Bernard (34th JDC, Chalmette)
45. St. Charles (29th JDC, Hahnville)
46. St. Helena (21st JDC, Greensburg)
47. St. James (23 JDC, Convent)
48. St. John the Baptist (40th JDC, Edgard)
49. St. Landry (27th JDC, Opelousas)
50. St. Martin (16th JDC, St. Martinville)
51. St. Mary (16th JDC, Franklin)
52. St. Tammany (22nd JDC, Covington)
53. Tangipahoa (21st JDC, Amite)
54. Tensas (6th JDC, St. Joseph)
55. Terrebone (32nd JDC, Houma)
56. Union (3rd JDC, Farmerville)
57. Vermillion (15th JDC, Abbeville)
58. Vernon (30th JDC, Leesville)
59. Washington (22nd JDC, Franklinton)
60. Webster (28th JDC, Minden)
61. West Baton Rouge (18th JDC, Port Allen)
62. West Carroll (5th JDC, Oak Grove)
63. West Feliciana (20th JDC, St. Francisville)
64. Winn (8th JDC, Winnfield)
This map is not based upon scientific research but is based upon the opinions of this firm. In those parishes where the members of the Dill Firm have not had regular contact, the information was obtained from counsel in that area. Before trial decisions are made, counsel should be consulted.